What I learnt in 2020!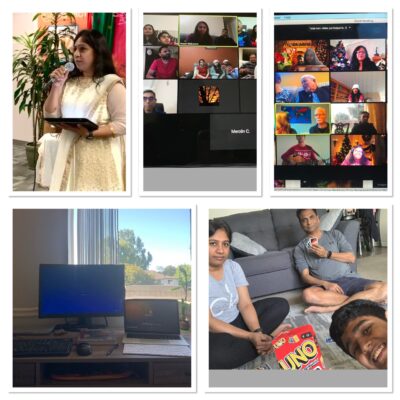 Published on December 24, 2020
'Hard times teach valuable lessons' – this quote is proven true for many of us in this year.
When I heard about the first case of Covid-19 on Nov 17th' 2019, I took it as just a news update and never imagined that it could turn to century's worst ever pandemic! But today I don't want to talk about huge collisions and never filling gaps this pandemic has created. Rather I want to introspect about the other side of my story!
And when we are in the last week of this historical year 2020, I think this is the right time to pack, preserve and share my takeaways and learnings here.
As a working woman professional and a simple living mother and wife, my daily routines with commutes and my ambitions of learnings have always played tug of war! But this race took a pause this year! Up to an extent, I could pull my time for the things I wanted to focus. While writing this on an early cold morning of last week of December, I feel satisfied for utilizing my time for few things that I always wanted to but could rarely do!
One important lesson I learnt is that work from home without compromising on your efficiency is possible! I work with teams –Team of my energetic colleagues. I've always preferred to be on the floor and experienced in-person discussions more effective than long chats. But Covid around the world turned all IT professionals' homes into offices! I improved in running online meetings with higher efficiency, accurate split of family and office hours, and a lot more. The pointers I wrote in a Q1 blog on Things to Take Care While Working from Home is helping me to work from home with the same efficiency! Phrases 'You are speaking on mute' and 'Sorry I was speaking on mute' became top IT phrases this year!
The downside is some long working hours, but this is manageable through time saved in commute.
I'm so happy to be part of 4 AM club this year! Because no matter whatever time you save in working from home; if you want to do something extra, you need to find that extra time. And all we have is 24 hours in a day! Waking up early during weekdays is working the best for me (a few also got replaced by dreams in my cozy comforter!). Perhaps for the first time, I can find that 'Me Time' with cool, breezy, dark dawns that everyday turns into golden sunshine! Every morning I feel blessed to witness the best example of new hopes, new blessings, and new beginnings! The time of prayers, reading, writing, and learning!
I learnt that it's only you who should keep yourself motivated for your crazy passion! Circumstances will not always be in favor but it's the test of your commitment and hard work!
Another key lesson for me is that life without travels and outings is not a breakdown! Of course, I love, and I'll keep loving exploring but in these difficult days absence of it is not the end of the word!
Disclaimer: I still don't enjoy virtual tours on social media. With all due respect for the efforts by the making team, I've failed to enjoy them! But yes, have used them for prioritizing our bucket-list of future travel plans! And yes, desperately waiting normal days to strikethrough my next travel list item!
I learnt to be that teenage kid with my teenage son. I learnt to laugh loud and understand his side of the stories. I understood that my Gen Z son has new concepts and new ways of looking at the things and I have to learn a lot from him! I learnt to be his closer friend.
2020 has gifted more family time than ever before! I learnt winning UNO games! Learnt playing badminton in our living room!! Learnt talking about politics and current affairs with hubby! Enjoyed on-demand movies on living room sofa with microwave popped popcorns!
And now I'm the certified chef by my hubby and son! According to them, I'm better than any Bay Area Indian restaurants! It's not an easy certification to get from my foodie boys!
On a serious note, I strongly believe that if you could smile, laugh and survive happily with your near ones during this lockdown then you are highly blessed family!
I felt the warmth from our friends and family in Bay Area, other parts of the US and in India through their calls and support. They are true blessings of almighty in our lives!
Another satisfying thing was to spend some online time with senior citizens of few Bay Area senior centers on different initiatives we as Infostretch Ignite Team took under 1% pledge initiative. I believe that every little moment spent to bring smile for someone is the best moment lived!
Very important thing Covid reiterated is that no matter how advanced humans become and revolutionize at rapid speed in all segments – we fall short and will remain helpless against God's plans.
Singing off with Prayers for Healthy and Happy 2021 for Everyone!
Happy Holidays & Merry Christmas!