Tumhari Sulu – A Movie Review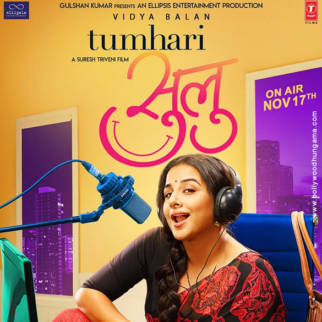 Published on November 25, 2017
A journey from 'Main Try Kar Sakti Hai' to 'Main Kar Sakti Hai' – The movie shares this strong message by a homemaker wife who doesn't give-up dreaming, trying and executing flawlessly!
'Tumhari Sulu' – written and directed by Suresh Triveni and starred by Vidya Balan, Neha Dhupia and Manav Kaul is his top writing so far. Sulochana (Sulu) is a simple housewife with big dreams but busy in her family life taking care of her husband and a twelve-year old son. She's always underestimated and insulated by her own father and twin sisters as she could not clear her 12th standard exams and couldn't study higher. With responsibilities of grocery and kitchen, kid's studies, ensuring husband's shirt's is iron-ready and being a welcoming host; Sulu has something going in her mind! She is passionate about finding opportunities in different domains matching her skills! She thinks if she can never lose a lemon and spoon race; she can win any race of her choice! She demonstrates her desires in front of the mirror  by posing like her neighbor air hostesses with a purse! She was just not knowing that a small radio contest is not only making her win a pressure cooker but turning her housemaker career into a night radio jockey! She dreams like a kid and her dreams are respected by his husband and that is the reason she could appear for RJ's job. He has a carrying husband and so he's more concerned about the night cab travel than Sulu's salary. He tries not to transfer work stress and hurt of disrespect at home but things become unmanageable.  Sulu demonstrates efforts, support and self-commitment like an ant carrying a larger load! She is a true fighter! She loves her family and her family too loves her but series of sequences and usual society mindset shakes her situation and snatches family happiness. Her intensions of financially helping the family, balancing between work and home with constant efforts is not understood and valued at some point, but a happy ending as intensions win over obstacles!
1st half could have been much better. Though the direction shows classic examples by picturizing a few beautiful scenes of pigeon at balcony to correlate with different circumstances, Sulu greeting carrots while RJ sharing a message of diamonds must get rubbed to give shining, illustrating the slow but a confident start that makes you win the lemon and spoon race, direction of 'ude ude' song, professional politics of letting someone down to uplift yourself by Pankaj (Vijay Maurya) not allowing Sulu to be in the elevator, the wind turning Sulu's diary's page of from 'aapki raton ko jagane' lines (that she was practicing for RJ's audition) to daily expense list and many more are worth mentions; the movie could have been still more engaging to much wider audience. The dialogue delivery when Sulu goes to Maria (Neha Dhupia) for resigning from her RJ's job wins the movie completely! The perfectly written and delivered scene in the movie!
Sulu is committed to put all efforts to become a perfect Tumhari Wife, Tumhari Mother, Tumhari Daughter, Tumhari Sister, Tumhari Co-worker but she also wants Her Soul to be the Boss of Herself and Achieve Her Own Dreams!
Suresh Triveni's Dialog delivery and messages given to the society steals the movie! The stylish, sexy women entrepreneur Neha very well understands the pain that the simple, middle-class Sulu is going through. The end of the movie delivers another dream in action for another victory is also the reflection of commitment, love for family and the fighting attitude!
Few messages delivered in the movie that I can quickly recall are highly appreciating:
Start slow but start proper. Your proper start, commitment and attitude will make you win at the end! The lemon and spoon example when slow but steady wins the race!
Aap mai hai koi baat… Ghasne se hi hira chamaktha hai! It doesn't matter that as you are focused in household routines, you are less talented! You are a Gem and You can do miracles!
Self-confidence is the key! 'Yes. Pakka. 100%' a confident answer with hunger to do something when Maria asked Sulu: 'RJ Banogi'? RJing with mutter pilling is surely possible!
Honest confession of your own failures! During RJ's interview with Maria, Sulu very honestly conveys that she was a 12th fail student and honesty is always impressive! If not immediately, at the right time!
The movie is not a Karan Johar kind where you cannot relate yourself with characters. The movie is not as 'Padmavati' where everyone wants to create controversies to snatch their own benefits but the movie is a story of every Woman. Every family.