Things you should take care while working from home due to COVID-19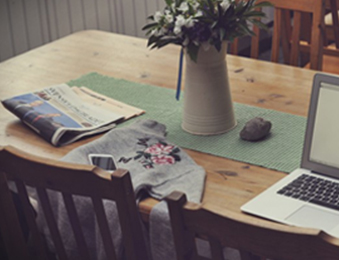 Published on March 20, 2020
Friends, we are passing through a very difficult time!
While I'm writing this; 177 countries across the globe are impacted by the Pandemic Corona Virus Disease 2019 (COVID-19). Due to this unfortunate and unavoidable circumstances, many of us are working from home.
There are doctors and other medical staffs who cannot work from home and are doing the most important duty for us and the entire mankind risking their own lives to ensure others stay alive and safe!
There are lakhs of people who cannot work as cannot go to their workplaces; their wages are impacted, and few are even worried about their survival now!
In this situation, few of us are blessed to be able to work from home!
As an IT professional; I'm sharing few simple guidelines that we all should consider while working from home. The objective of sharing this information is to ensure maximum work efficiency while working remote and staying healthy.
1.     Work. And Work from Home! 
Don't Step Out unless very essential! Follow 'Shelter to Place' Lockout very strictly!
The only treatment we can offer now is social isolation and this is the biggest gift to health workers working day and night and to all mankind!
2.     Follow Professional Hygiene!
Be available on all designated official communication channels including your personal cell phone and home phone.
Don't play around with your availability status! It's absolutely OK to be seen as 'Away' for some time! Your managers, clients and teammates are also humans, have families and they understand the reasons of stepping away from your laptop for some time!
Honesty is the best policy! Be honest with your client, your manager and your team and everything is very encouraging!
3.     Do Time Checks and Change Communication Model as Needed!
Do periodic time checks for each activity you are taking up! If feel it's taking a bit longer while working remote and teams at distances; immediately change the mode of communication. Research says that one two-way telephonic conversation reduces average 8-9 email conversations!
If efficiency increase is required; make a phone call, do teleconference, schedule video conferencing, switch to group chat, screen sharing, screen control sharing etc. Use technology to bridge the gap!
4.     Stay Fit and High on Immunity!
As all your Outdoor and Indoor Fitness activities are severly impacted due to 'Shelter in Place' or similar restrict situations; don't just give up on your routine fitness activities. Remember that your immunity helps in fighting against any virus infection!
Don't just stop wearing your Apple Watches or Fitbits or other wearable devices but keep monitoring them. They will regularly make you aware of missing moves, exercises and stand-ups!
Follow these simple practices too:
Spend minimum 45-60 minutes time for indoor exercises. You are already saving daily commute time so effectively use this time in exercising! Find good You Tube and other tutorials and follow them regularly. If possible, wake up before sunrise and complete your morning exercise routine. I guarantee for a higher productive day if you do so!
Stand-up at-least once in an hour from your work desk.
Drink plenty of (warm) water – you can mix water drinking with your stand-up alarms!
Eat fresh and healthy food. Avoid frozen, fried and unhygienic food. That doesn't mean keep eating boring things! Eat interesting, yummy recipes that you enjoy! You are going to stay home the entire day and so you should follow diet that satisfies you, keeps you happy and healthy! Again, utilize some of your saved commute time in preparing interesting dishes for you and family!
5.     Follow Mental Hygiene
Look After Your Mental Health! Spend time with your loved ones, laugh with them, discover new activities, play quick indoor games with them! Consider this as a blessed 'together-time' you always were striving for!
Read a book, find a new weekend activity, learn a new skill, follow your passion and find some personal reinvent time! Be Happy!
6.     Follow Personal Hygiene
A lot of important and useful information is shared by experts on this so I'm not repeating here but they are Top 1 priority in current times.
Keep your work desks, laptops, cell phones and house phones disinfected.
7.     Follow Social Hygiene
We are in the era of information overflow! Write and wrong information keeps flowing at the speed of internet! Everyone has the entire world on their work desks and in their cell phones. Don't spread negativity and rumors! If you are unaware about the how trueness of the news, stop them passing away from you to someone else! Don't rely on forwards of WhatsApp university!
Let's Pray and Hope that we come out of this Pandemic very soon…
Stay Home and Stay Safe!
(Image courtesy: unsplash.com)