Sui Dhaaga: Made in India – The Movie Review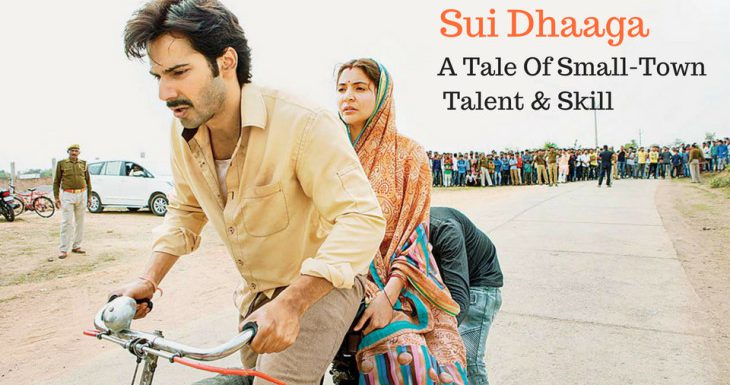 Published on October 02, 2018
A dedicated, simple and smart housewife Mamta is married to an honest and hardworking man Mauji. Other family members in the drama are Mauji's parents, his brother and his wife with their son. The family is living a struggled file – a retired father who has not achieved anything in his life, an unwell mother with heart nerves blockages, a wife constantly trying to take care of everyone's needs; losing her weight and herself too and a son treated worthless as couldn't prove his ability. Mauji is serving at a sowing machine's shop where he's not treated with respect in spite of all hard work and honestly. Mamta and Mauji love their parents and family. Mauji leaves his job as Mamta is unhappy to see his man not being treated with respect. Both of them wants to start their own business of tailoring and dress designing as they had identified that skill in them. The movie revolves around the challenges faced by a common man and pains given by their near and dear ones and successful business people in the journey of fulfilling their dream!
I was sure that Anuksha would justice her role in spite of no glamour and she has done it! Her tone and eyes movements completely fit in the role of a lower middle-class housewife who in spite of her cleverness and capability, is hesitant to put her point. Her acting of putting the edge of the saree on her head is so natural that even today's housewifes from tier-3 Indian cities cannot do it so naturally as she has done!
I was not sure about Judwaa2 and Dilwale's Varun Dhawan, but he has also done very good justice to Mauji's role.
Director Writer Sharad Kataria has done an appreciating job in writing a hat-kestory and deciding the star cast.
Songs composition by Andrea Guerra is very dull but the story and star cast compensates.
Message through dialogues like 'Sab Badhiya Hai', 'Mad in India'and 'Made in India', 'Agar Gaaliyaan Hi Khaani Hain, To Taaliyon Ki Awaaz Mein To Pade', 'Roz Doggie Banoge Kya' –  strengthens the movie more.
The story very well relates to the title Sui Dhaaga. The movie is not only about a couple struggling to setup a business related to Sui Dhaaga. The movie is also sharing the important message of how husband and wife are supplement of each other! How together can heights be achieved, and smiles can be regained!
So, till you are waiting for the release of Thugs of Hindostan, Sui Dhaaga is definitely a to-be-watched movie!