Shamitabh – Movie Review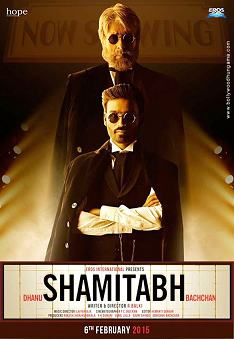 Published on February 15, 2015
A film with Fictions and Emotions together in one storyline. Tried distinguishing a few here…
Ambition!
A below average looking dumb boy Dhanush (Danish) dreaming an actor right from his childhood. Accepts bus conductor job but still carrying and demonstrating the same dream during his duty. A Rajnikant story.
Persistence!
After the death of his mother, he comes to Mumbai for fulfilling his dream.
Self-commitment!
Hides himself in one of the vanity vans in Mumbai film studio and survives himself being beaten and handed over to Police.
Bollywood style – include a Love Story!
Dhanush meets Akshara (Akshara Haasan) one of the film's assistant director who decides helping him for his goal! Sounds unusual but a movie after all!
Fiction!
Akshara comes to know about a biological technical breakthrough where dump person can be given any other person's voice by fitting a transmitter in the person's throat. Dhanush takes this treatment but now the real search begins. Search of a perfect voice!
Dream comes true!
And the search completes! An unsuccessful alcoholic actor staying in a rented room in cemetery. A person once rejected in films and even in radio station due to his heavy voice. Amitabh Sinha (Amitabh Bachchan). The deal is Amitabh will never publish this truth to outside world. And new name of Danish identified by himself only – daniSHAMITABH Sinha. A person valuing his creator as a successful actor – LIFEBUOY!
Ego Clashes!
Amitabh unhappy seeing Daanish's success as he simply finds zero fame value for him, whereas the success is due to his voice. And the clash begins! No one is ready to compromise on their egos. This ultimately impacts Akshara's dream of directing a film; who actually brought both of these unsuccessful persons to this level!
Reunion!
Jealousy and ego has brought in none other than diminution for anyone till now! This was very well understood by both of these 'do jism magar ek jaan' kind of personalities whey they took their ways apart and did separate films. They came together again in a new film 'Sorry'. They were very hopeful and happy about this movie but met with a disastrous accident while travelling for the movie premier!
Lost the battle!
Danish loses his life in this accident and is buried in the same grave which Amitabh secured for him!
My Reviews
Dhanush has fluently acted and shown his abilities. He has demonstrated that an actor can gain a respectful place in audiences' heart by serving a class apart act – looks and six packs are not the only mandate for this!
But Mr. Amitabh Bachchan's confidence, experience and acquisition precedes everything else and he shines the most! He got a scaled platform to bring out his 'actor within' one more time after a long time! Balki's feelings for Mr. Bachchan is also seen here after 'Paa' and 'Chini Kum'.
Indeed a perfect Birthday gift by Balki as he said before! Balki was driving to Mr. Bachchan's house to wish him on his Birthday but couldn't buy gift as got very late due to Mumbai traffic. He went to his place; wished him and promised to make a film for him as the Birthday gift. And this turned out to be one of the best birthday gifts, isn't it!
Akshara reminds Sarika especially by her cute eye color. But she is proving herself as papa's child in acting, which is appreciating. A long way to go for her so hopefully we will see better and better performances from her in the days to come.
Dialogues:
Overall the movie has served very appreciating dialogues. And when spoken from Mr. Bachchan's mouth, the weight doubles! Few of them which I liked and remember are these:
– Jab audio ki vajah se video chalta hai … usko picture kaise bula sakte hai …
– It is not picture, it is mixture…mixture
– Har partnership mein hamesha ek partner ka talent doosre partner se thoda zyada hota hai
– Yeh awaaz ek kutte ke mooh se bhi achchi lagegi
– Aap Media Ke Log Toh Ek Aadmi Ki Shakal Aur Aawaz Ke Beech Main Bhi Nafrat Paida Kar Sakte Hain
– Mein Finished… Toh Tu Bhi Finished
– Jo industry khud ke liye ek original naam nahi dhundh paai who kya…
– Anna hazare ke upar picture banegi to bhi award ke liye setting hoga…
– Aamir sahi karta hai…
Do go and watch the movie for sure if you have not seen till now!