Product Mindset: The Culture You Can't Ignore!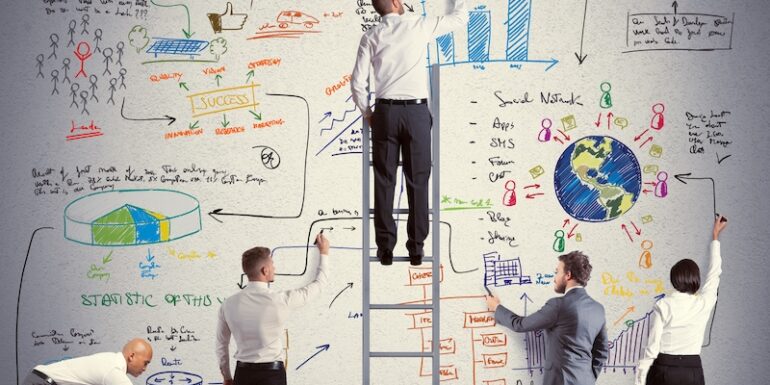 Published on December 22, 2020
In this constantly evolving world; research, IT and manufacturing segments have well adopted the culture of continuous learning. This has shown significant improvements in their product success and customer delight. Routine life examples of Utility Phone to Smartphone and Ford to Tesla are the results of such evolutions. Especially, IT and dependent sub sectors have shown tremendous cultural shift in last two decades. One of the most important shifts is in the approach of thinking, executing and delivering solutions. I.e. the shift from Project Mindset to Product Mindset!
2019 Gartner analysis on application development and integration trends derived that 85% of organizations Favor a Product-Centric Application Delivery Model.
Technology Trends 2020 by Deloitte defines Product Mindset as foundation in the Business of Technology.
Foundation of product mindset is built on these 4 pillars:
Business
Team
Agility / Delivery
Quality
To understand this more, let us understand the definition, needs and benefits of product mindset.
Why Product Mindset?
Product mindset is about building a product centric thought process rather than temporary milestone-based release approach. It's about thinking and working in the direction of quicker business outcomes. When the higher focus is on the business and the end product; objective of customer centricity strongly emerges. And to achieve this goal of customer savvy product; the entire team works together from Day One!
Key differentiators of product mindset over project mindset are upgraded definition of 'The Team', 'Continuous Release Cycles' and 'Retrospect and Improve'!
Let's look at each of these differentiators here.
The Team: Product mindset approach requires different teams working together as 'One Team' and not working in silos. Business, Design, Development, Quality and Infrastructure teams together build a strong partnership with customer and all of them work hand in gloves to achieve the end goal.
Scope is transformed into a vision! A vision to build a product that the customer falls in love with! Such attitude of working together for a common goal brings more maturity towards understanding each other's problems.
Another key point is to have a long tenured but not short teams. This helps significantly in terms of retaining knowledge and getting quicker and well-thought contributions. Small tenured rapidly changing teams fail to deliver such results.
In a nutshell the vendor-client relationship ends, and consultant-client relationship emerges. The goal is to build an environment of mutual trust and understanding. In such environment, taking tough decisions becomes easier and the output is clearly for the sheer benefit of the product!
Continuous Release Cycles: The Key of Product mindset is 'Launch and move on…'. Digital innovations in Steve Job's in Apple, Elon Musk's Tesla, and Reed Hastings, Mark Randolph's Netflix are few greatest examples of this mindset.
IT industry as a whole has already started showing shift towards continuous release approach. As per 2020 Global DevSecOps Survey – 59% companies deploy multiple times a day, once in a day or once in every few days. This percentage is higher by 45% than last year survey. Smaller, Quicker and Efficient release pipelines are built by applying Continuous exploration, Continuous integration and Continuous Delivery principles for execution.
In a survey conducted by Gartner in Feb 2020, Feb 2020 – 55% of organizations surveyed by Gartner are moving towards full adoption of the product-centric application model by defining new architectures and tools (39%), investing in DevOps software development methodologies (35%) and hiring workers with new skills (32%), to name a few.
Companies have shown improvements in successful one-shot (without rework) feature completion ratio (from entry to exit line of continuous delivery pipeline) from 36% to 72% by successfully adhering to continuous delivery model.
Refer this wonderful 8 steps guide from Gartner to get DevOps right for setting up right DevOps practices in your organization.
Companies like Google and Netflix have reached to a level of Continuous Deployment directly into production environment through highly efficient cloud engineering, testing, security, operational approaches.
Retrospect and Improve:
Matured team following continuous release approach is the excellent source of continuous improvements. Real value-add of product mindset can only be achieved by maintaining, monitoring and manipulating data in correct manner.
Key stakeholders identify key metrics on risk, quality, value proposition, learning plans, budget impact, projections and ROI. These metrics are data collection around domain, application life cycle, infrastructure and client specific. Sprint metrics should be used for applying learnings in future PI planning for maximizing revenues and excelling business ROIs.
AI based systems on estimations, project management and defect predictors also provide very insightful predictive analysis in respective segments.
Practices that help building product mindset
Product based delivery is a mindset and there are multiple practices involved and they are highly dependable on each other. Here's the list of key practices to be followed to build product mindset-based culture:
Agile
DevOps
Automate
Work together for same Vision and Mission
Regular checks on Business ROI and Budget
Benefits of product mindset
Product mindset is a cultural shift and flows from top to bottom with leadership buy-in as first thumb rule. Related analysis is available with all supported data and benefits are well proven. It's no longer a choice; it's a need! The need to stand strong and thrive long! Here are the key benefits of product centric delivery model:
Reduce ideation to launch time
Fail fast and Win Longer!
Rapid increase in customer delight
Happy Team and Happier Customer!
Deliver financial benefit for the successful product delivery
To summarize, Product mindset is a long-term mindset, interdependent mindset, curious mindset, continuous learning mindset, can-do-it mindset, and business driven mindset.
The world is already at full pace on Product Mindset!
If not already; make it your P1 cultural and operational shift NOW!