Neerja – The Movie Review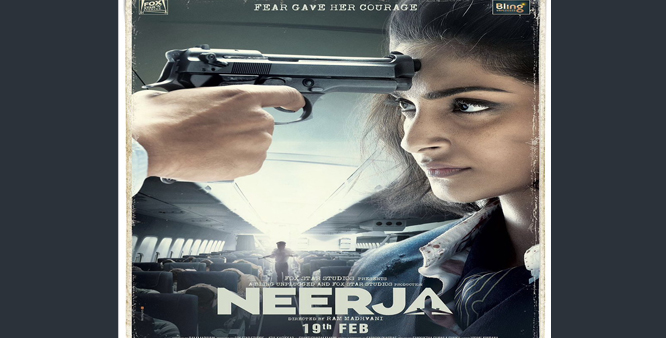 Published on February 21, 2016
'Jite raho, khush raho, mast raho' : These words by Neerja's mother Rama Bhanot stolen my heart just in the initial scene! A mother who has lost her brave daughter who was going to turn to 23 after 2 days must be so rich at heart to give this message to the world!
Neerja Bhanot, daughter of Rama and Harish Bhanot was born in Chandigadh and was married in March 1985 and went to Gulf with her husband. But dowry pressure broke this young beautiful girl's dreams and she was back in Mumbai just in two months. She was committed to give another shot to life and started modeling. Neerja with that also started airhostess job with Pan Am.
5th Sept 1986 was her first flight as senior purser. She being a committed person towards her duties, was super excited for this journey from Mumbai to New York via Karachi, and Frankfurt. The flight gets hijacked at Karachi airport by 4 armed terrorists of Abu Nidal Organization. just the next moment after terrorists entered into the flight, Neerja messaged in the cockpit about this hijack and all 3 pilots escaped from the emergency exit. As a result, the flight could not take-off and terrorists plans of flying to Cyprus to release some of their co team members from jail didn't work. Angry terrorists than asked for US passports to filter out US citizens and kill them to build pressure to authorities to send pilots back and fly to Cyprus. But Neerja acted smart here too in such tragic situation and hid US passports under seats etc… and saved them. Upon asked for a radio engineer, again Neerja successfully could safe guard him and avoid transferring terrorists demand to authorities. After such heavy 17 hours, angry terrorists started firing and setting off explosives. At that time, the flight had not electricity supply and Neerja opened one of the doors and emergency chute and assisted passengers to come out of it. She was the savior for 359 out of 379 passengers. At last, she became target of terrorists' bullets while she decided to protect 3 children in her arms and did not chose the option of saving her own life! The tragedy happened just before 2 days of her 23rd birthday!
This Indian daughter was the youngest person to receive India's highest peace time award 'Ashok Chakra'. She was declared as world's bravest women and was given Flight Safety Foundation Heroism award, Special Courage award by United States Department of Justice, Tamgha-e-Insaaniyat award by Pakistan and many more…
I thank Ram Madhvani for making this film that gave awareness of millions of people who had forgotten or didn't know Neerja. Sonam Kapoor, looking similar to Neerja (and as mentioned by Neerja's mother that Neerja was prettier than Sonam) has done very good justice to this role and she should surely get nominations of best actress for this biopic. Shabana Azmi is undoubtedly outstanding. The climax speech by her is adorable! Direction of Neerja's past life incidents and dreams of her sweet lovely future life are mapped beautifully with hijack incidents. The Pan Am Flight 73 created set was also way to original look – appreciating work here as well.
The movie is unique because its not a movie though. It's a true biopic which is so difficult and rare to be true! While majority of young girls are either focused and impressed by glamour and film or just relaxing or unhappily adjusting with their routine family and social lives and don't know the power within them, Neerja was the brain with beauty, courageous rock with tender heart and the perfect name to mention for honesty towards the duty! She was God, the saviour for those 359 passengers whose hundreds of dependants, thousands of loved ones and millions of dreams would have died if she would have not died for them. She proved these lines completely correct 'Zindagi lambi nahi badi honi chahie.'
She took those 359 with her saying 'Jeete hai chal' but those killers did not let her live at last.
While the world has completely twisted meanings of patriotism, world peace, work duty and women's strength, Neerja was the perfect example by all means. Another question her life and death asks is that will killing of innocent people able to bring freedom or positive change?
Instead, lets say this what she said…
Jeete hai chal…
I Salute Her.
Some more references to feel Proud about her and fall in love with her once again:
https://en.wikipedia.org/wiki/Neerja_Bhanot
http://neerjabhanot.org/father.htm
http://www.indiatimes.com/entertainment/celebs/neerja-bhanot-s-brother-reviews-neerja-and-it-is-the-only-one-you-need-to-read-today-250963.html