Movie Review: Gunjan Saxena: The Kargil Girl!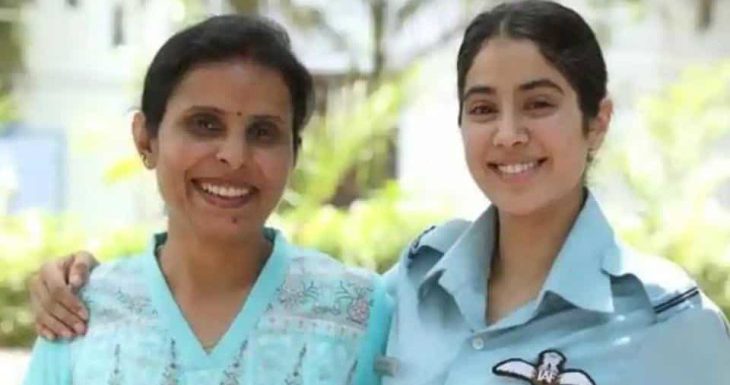 Published on August 17, 2020
'Jo log mahenat ka saath nahi chhodte, kismat kabhi unka saath nahi chhodti'
'Muze izzat dene se aap logo ki izzat kum nahi hogi'
If you are a daughter or a father sharing and persistently working towards accomplishing that crazy dream a daughter has; you will like this movie! If you are a girl or a woman, facing gender inequality challenges in your professional career or in family even after giving your best; you will like this movie! If you are a normal citizen usually staying away from the dirty politics happening in the name of patriotism but have that real feeling of proud and love for the nation; you will like this movie!
The movie is biopic of Gunjan Saxena – Flight Lieutenant, an Indian Air Force officer and a former helicopter pilot. Gunjan's remarkable achievement was at the time of her posting during the Kargil war of 1999. She successfully did 40 missions of evacuating the wounded from war zones, transporting supplies, identifying enemy soldiers' locations and assisting in surveillance.
Gunjan's character is played by Janhnvi Kapoor, directed by Sharan Sharma and produced by Dharma productions and Zee studios. In the times of Covid-19 pandemic situations, the movie is an original Netflix release. Keeping nepotism debates a side, Janhvi has acted remarkably well in the movie. Pankaj Tripati has played Janhvi's dad. He's completely different than what he was in Luka Chuppi and has done super justice to the character of Janhvi's strong supported father. Janhvi's brother is played by Aangad Bedi (son of Indian cricketer Bishan Singh Bedi) and her mother is played by Ayesha Raza Mishra. Flight commander officer Dilip Sinha is played by Vineet Kumar Singh very well!
The film starts in the streets of Lucknow. Young and intelligent Gunjan has dreams of flying airplanes. So, in spite of scoring high in her schooling, she continues to dream and attempt towards her goal of becoming the pilot. While her both parents have different views about her dream, just like her mother her brother also thinks that Gunjan had a crazy non-realistic passion which should be changed! But her father, a retired army officer strongly supports her. He becomes wings of her daughter. He gives her a newspaper advertisement of Indian Air Force Pilot recruitments. She faces continuous challenges of being overweight by 7 Kgs, height being shorter by 1 centimeter; but she overcomes these challenges and finally gets closer towards her dream! After the training, her first posting was in Udhampur base camp where she faces lots of challenges being the first and only lady flying officer there. Gender bias doesn't allow her to be accepted by her fellow coworkers. Not having women changing rooms and women rest rooms are becoming non-justifiable excuses for being late for flying sessions. The only girl at the camp is being suppressed and demotivated up to a level that she decides to take leaves and go home. Again, her father reminds her about the dream together nurtured by the dad-daughter duo. Gunjan decides to go back to the camp when she received leaves cancelling letter. The war had already begun and Gunnaj is sent to Kargil. Her decision making, determination, and love for the nation is well picturized.
I especially liked the aerial cinematography and SFX a lot in the movie. Virtually seeing the Himalayas and rivers of Kashmir is a beautiful chance through this movie!
Bollywood and its viewers have mostly treated biopics very well. Be it Chak De, M. S. Dhoni, Dangal, Neerja, Bhaag Milkha Bhaag, Saandh ki Aaankh and the list is big…
So, go for a not to be missed movie! Stay home, watch at home and stay safe!