Information Technology Trends in 2019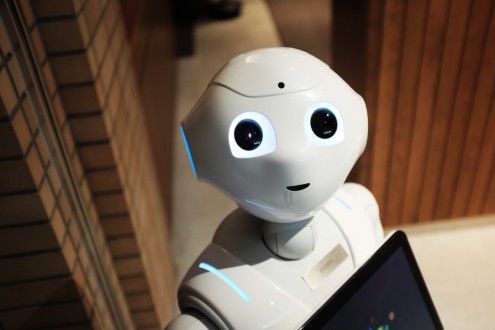 Published on January 13, 2019
Happy New Year 2019!
IT Trends in this year is all about building and optimizing digital systems that can solve human and business problems, create values for the world and become differentiators!
Gartner, CIO and PWC white papers are almost citing similar fundamental thoughts. 2019 trends will be taking 2018 trends further by adding higher intelligence, stronger connectivity, precision, comfort and security in personal and business worlds.
Definition of IT solutions will no longer be limited to one technology or one segment. Technology solutions will be defined by combining multiple segments of framework and application development, QA, QE, automation, DevOps, CI, CD areas in right blend as per the need.
Technology innovation will be focused around these 5 major areas:
Add more intelligence to intelligent network by efficient use of AI, ML, AR, IoT and Automation
Connect virtual and real worlds to solve real pain areas and achieve greater comfort and solutions
Connect people, process and things more meaningfully than ever before!
Establish continuation innovation processes
Setup ethical and secured internet network
Most impactful IT trends orbiting these areas will cover these blocks:
Autonomous Devices: Things for e.g. autonomous carslike Tesla, drones in delivery and defense areas, virtual stores like Amazon Go, automated shipping will become highly matured by AI learnings and combination of hardware and software.
More research in AI areas for developing higher precision algorithms that explains and upgrades themselves will help making these automated devices more efficient.
Digital Twin:The concept of creating digital replica of physical real-world things (people, places, processes, systems) to bring large savings and speed will setup more and more instances. Few examples of positively impacting industries through Digital Twinningare Healthcare, Construction, Aircraft and Utility.
Empower Edge Devices:It's about driving greater capabilities into Edge Devicesbecause without empowering them, none of the high demanding technology demands can be fulfilled. Edge devices empowerment includes the following:
Empower edge devices: With higher capacity chips, AI, ML improvements, storage etc.
Cloud: Increase cloud architecture capabilities
Communicate at the edge: E.g. 5G coming up in 2020 and showing growth path in next 5 years
Immersive Experience Optimization:Massive improvements are on its way through constantly improving techniques like AI, AR, ML and NLP in how humans interact with digital world. Combination of IoT and AI will be areas of foundation here. Setting up high scale remote assistance in healthcare industry and production lines or using intelligent bots are fewer examples which will keep sharpening higher.
FinTech and Blockchain:Blockchain – The algorithmic based trust model and the buzzword of 2017 will keep growing in this year. Key value proposition here is to reduce business friction and technology friction as this ledger is independent of individual applications and operating across countries.
Other key progress in payment industries will be around strengthening digital identity, instant cross border payments, adoption of platform-as-a-service in Open Bank concept, seamless omnichannel payment experience, deepen customer relationships by leveraging mobile wallets
Smart spaces:Creating an environment by bringing multiple trends and technologies together in an integrated fashion to support specific industry, people and category is another key use that will benefit humans. E.g. advanced digital work places, smart cities, connected factories
Tech giant Alibaba is developing a City Brain artificial intelligence layer. It is testing elements of the AI in Hangzhou city of China. Thousands of street cameras are used to collect data to control traffic lights, optimize traffic flow, detect accidents, and deploy respondents.
Quantum computing:Solving trickier, bigger, massive problem at tremendous speed that is not possible by traditional programming techniques will develop at the highest speed this year
Apart from The United States of America and China; Japan, South Korea, Singapore, Sweden, Germany, The Netherlands, The United Kingdom, Switzerland are anticipated to be significantly contributing the key tech innovations
So, let's look forward for an extreme digital savvy future for us and for our younger generations and start preparing for it by all means!
(Image Courtesy: Alex Knight)