Dad… You are my first Hero!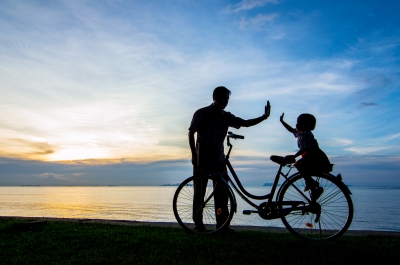 Published on June 20, 2015
When I was yet to open my eyes and see the world, you took precious care of mom and me. You arranged for healthy and delicious food on timely manner, Dad, you made our travels safe and you made sure we get enough rest.
The day I was born, mom was tired and in pain but Dad it was you who made me feel warmth, peaceful and safe when first time you lifted me in your arms.
The day I was born, Dad you were the busiest person in family to arrange for my little cloths, consult doctors, share exciting news of birth of your little princess, attend family members and also take care of mom and me.
When I was a kid, Dad you woke up and played with me at midnights and early mornings in spite of your office trip the next day so mom can take rest.
You gave me that courage by pushing back your hand which I never wanted to release so I can stand on my feet and walk independently.
You made me jump in the sky and hold back again in your arms to give me the courage, teach me to go higher, teach me to take risk, teach me to be calm, teach me to feel the joy, teach me to experience your trust and presence and teach me to grow.
When I entered in my teens, Dad you allowed me to take my first independent two wheelers ride on the roadside when everyone else was not in favor of allowing me.
You gave me lessons to be a brave girl – to proudly stand apart with my attitude, dignity and confidence.
You allowed me to do everything correct that I wanted to do and you safeguarded by stopping wherever I was going wrong.
You stood outside my school gates during all my board exams just to ensure I don't have any trouble giving my exams.
You made sure I am able to pursue all my hobbies that were yours once but you somehow missed to.
You made sure I don't miss any school picnics, gatherings and party times.
You made sure I carry myself with self-confidence and self-respect.
You taught me all the lessons that you learned by failures so I don't fail.
You taught me infinite lessons of  character values, education, respect, honesty, hard work, efficiency, punctuality, communication, cheerfulness and strongness being the self-example.
When I was growing young, Dad you saved me from mom when she wanted me to help her in the kitchen and I wanted to play badminton outside!
Whenever I was being stubborn, you listened to me patiently and made sure you convince me with the right approach.
You made sure I get what I want and what is correct for me.
When I started working, you guided me to prove my honesty and give my best to my work.
When I am a mom now, you still take care of me the same way.
You have one more role to play; grandfather of my child! You are justifying that role too so flawlessly by being the best friend of my child in all means!!
When everything was going great, you fell ill, fought with cancer so strongly with God's grace and won over that difficult time. You once again gave another example of God's grace, your strongness, positive attitude and brought smile of faces of all of us. I just can't say anything other than thanking God here!
Dad! You are my first hero since I opened my eyes and saw this world for the first time… and you continue to impress me always…