Book Review – MY LIFE IN FULL: by Indra Nooyi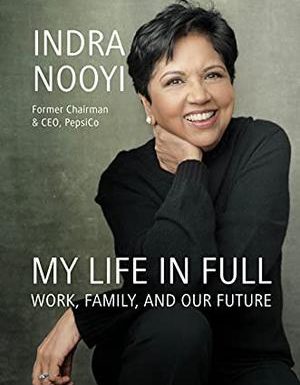 Published on January 21, 2022
A woman, an immigrant, a family member, a leader, an influencer, the trend setter & doer for better environment and better health for the world around and ahead of her, the creator of performance with purpose program, the former CEO and President at PepsiCo – Indra K. Nooyi!
The book 'My Life in Full: Work, Family, and Our Future' is an autobiography of Indra Nooyi written (and narrated in Amazon audible) in her own words (and voice).
Indra Krishnamurthy was born in Madras (now Chennai), India in 1955 and grown up with her two siblings – an elder sister and a younger brother in joint family. She did her schooling in Holy Angels school, received bachelor's degrees in mathematics, physics and chemistry from Madras Christian College (MCC) and post graduate diploma from IIM Calcutta, moved to the United States to peruse her masters from Yale School of Management, Connecticut (and now settled in the same state). Before joining PepsiCo in 1994 as Senior Vice President in Strategic Planning; Indra served in Johnson & Johnson (while in India), Boston Consulting Group (BCG), Motorola and Asea Brown Boveri (ABB). Indra became the CFO of PepsiCo in 2001 and became the first women, women of color, Indian American CEO in 44 years of PepsiCo history and served as the CEO for a dozen year.
During her tenure as the CEO, she led the successful program 'Performance with Purpose' with the vision of environment and health betterment. The program was focused on environmental care in the areas like saving water while producing Pepsi cola and other Pepsi products, building environment savvy production plants, converting transports to hydraulic trucks, reducing food waste, recycle, and many more. Her investment for healthier PepsiCo products led towards acquisition of healthy food companies like Quaker's oats and Tropicana juices. To fulfil the goal of healthier products and inspired by design concepts during her meeting with then Apple CEO Steve Jobs, she established dedicated PepsiCo design and innovation center in Hudson, New York. Teams of scientists, dietitians, researchers, and designers worked day and night to come up with healthier products at no taste compromise, to create better product designs and richer marketing campaigns. During her tenure, PepsiCo resulted in 80% sales growth and brought long term awareness in society for healthy living.
After stepping down from the post of CEO on Aug 6th, 2018, Indra served as the Chairman till early 2019. After retiring from PepsiCo, she is currently a board member in Amazon, International Cricket Council, and Philips. To give back to the state of Connecticut which gave her education and beautiful community to live; she's serving as chairperson for a few of the state's government and non-profit strategies and programs.
Indra Nooyi is ranked world's most powerful businesswomen by Fortune and Forbes, received prestigious place in the USA's National Women's Hall of Fame, received third highest civilian award of India – 'Padma Bhushan', honorary doctorates by multiple top universities of the United States and many more recognitions…
The book is right from the heart of a business executive woman – the CEO, Mother, Wife, Daughter!
Indra has expressed the pain and solution approach towards removing imparity in women's pay in male dominating professional world, clearly stated about not tolerating if women not treated with the equal request as men in professional and personal lives, contributing towards healthier, smarter and emotionally connected societies and organizations by increasing paid maternity and paternity leaves, setting up family support system, benefits of multi-generation-families, grandparents important role in grandkids' upbringing , family values, giving back to the community who has helped us shaping what we are today, women's integral roles of a daughter, wife, and mother in-spite of any C-level heights!
The book is about a woman, who loves family and equally loves her work!
The book is about a woman, who in-spite of all the odds, finds her way out and wins too!
The book is about a woman, who is intelligent and extremely hard-working!
The book is about a woman, who allocates her life completely to change the world to make a better place every day!
The book is about a woman, who inspires thousands of working women around the globe and fuels their dreams!
The book is about a woman, who doesn't give false hopes, says that the change is far, but herself be the change she wants to see!
Read the book! You would want to finish in one sitting!
Thanks @IndraNooyi, for gifting such a beautiful success poetry of a woman leader!