102 Not Out – The Movie Review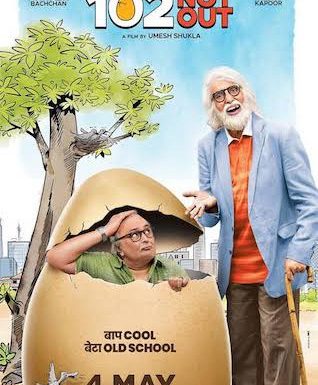 Published on May 06, 2018
The father Dattatraya Vakharia (age 102) and his son Babulal Vakharia (age 75) – played by Amitabh Bacchan and Rishi Kapoor respectively; are staying in a house at Shanti Nivas, Vile Parle East Mumbai. Dattatraya, young at heart is living his life like a 26-year young boy, whereas Babulal has lost interest from his life due to setbacks in life.
Dattatraya has an interesting hobby of taking auto rickshaw rides on Mumbai roads and listen to people's experiences through their life stories. From someone he gathers the knowledge about world's highest post office situated in North India and wants to visit this place. He visits the doctor for medical check-up and is diagnosed with brain tumor at that time. As he realizes his life is too short now; he decides to make his son Babu's life livable and lovable again! To do this, he creates a drama of promise sequences! He gets a cut-out of a Chinese man – the oldest lived human on the earth (118 years) and declares that he would break this man's record by living more 16 years! He wanted to live life at the fullest without any negativity and boring moments. So, Dattatraya orders that either Babulal would have to follow his decision of going to Sunset Old Age home or will have to fulfill promises given by his father! Poor Babulal unwillingly agrees to fulfil his promises as obviously doesn't want to go to the old age home.
The story revolves around different promises Dattatraya throws to Babulal with the help of medicine delivery boy Dhiru (played by Jimit Trivedi). As gradually, Babulal keeps fulfilling conditions given by Dattatraya, he realizes and re-lives the lovely past he lived, loved ones he was surrounded by and guilt and sorrow given by his own people. The father at the end succeeds in transforming his son from a boring and lost to a reborn and smiling person. Dattatraya successfully achieves his goal and then goes for his heavenly journey to the highest post office of the universe: somewhere between the stars…
Right from the titles till the end; Mumbai is well sketched and captured in the movie. The Regal Cinema, Lucky bakery, The Taj, Beach, Gate way of India, St. Sebastian Church, local trains, Marine Drive, Bandra-Worli sea link, Haji Ali and many more frames bring Mumbai alive in your eyes!
The movie is without any lead female cast is lifted equally by both the legends Amitabh Bacchan and Rishi Kapoor. Both have acted together after 27 years and have very well justified these characters. They are well supported by Jimit Trivedi as supporting star cast.
Umesh Shukla after watching the Gujarati Play 102 Not Out met Amitabh Bacchan and Rishi Kapoor separately and explained the script. Within 10 minutes both these actors agreed to do this movie. Both individually and deliberately decided not to watch the original play written by Saumya Joshi to bring their own creativity in the movie and keep it distinct than the play. The movie will be the 2nd hit of Umesh Shukla after OMG: Oh My God. All Is Well and Dhoondte Reh Jaoge are the other movies under his direction.
1st half of the movie is more comedy and 2nd half is bit emotional. The blend of laughter and tears is well balanced. Dialog deliveries and sequences hold the movie till the end. Introduction of Babulal very clearly portrays his characters in viewers' minds. Climax and few dialogues would have still been more sharpened. In few scenes, Dattatraya's action moves are not matching with his physical age of 102; but they are attempts to build his young at heart image.
I Hope You Can Understand – Is the message to everyone who knowingly don't want to understand their loved ones.
Jab Tak Zinda Ho, Marna Nahi – Is the message to every person to value the wonderful blessing called LIFE s/he is gifted by Almighty.
Mere Ghar Aana Zindagi – Is the message to self to welcome zindagi in our lives, re-born with a purpose and pleasure and make it worth living!
The movie will attract people of all age groups believing in family values, relations and emotions. Not only father and son, but every generation in the family – living jointly or separate should watch this movie together!